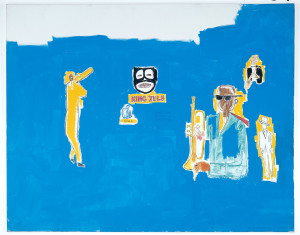 The Ogden Museum of Southern Art will offer free admission this Sunday, January 25th to celebrate the final day of the blockbuster show Basquiat and the Bayou presented by The Helis Foundation.
This is the public's last chance to see the exhibit, organized by Prospect.3, which brings together important works by Jean-Michel Basquiat.  Having never been displayed together publicly in the Unites States, this exhibition's pieces consider the work of Basquiat and his relationship with the American South.
In a review published in the New Orleans Advocate, art writer John D'Addario said: "The show sheds new light on the work of Jean-Michel Basquiat (1960-1988), who spent most of his life in New York, but who explored several themes and motifs related to the South — including music, slavery, racial politics and Afro-Caribbean religious traditions — over the course of his brief but intense artistic career."
Read the complete event announcement on Mid-City Messenger.